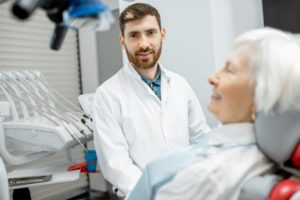 Just because you're getting older doesn't mean that you've lost your desire to look your absolute best. However, you may be wondering if it's too late to improve your smile. Is it out of the question at this point in your life? Continue reading to find out, as a cosmetic dentist in Glastonbury weighs in with an expert opinion on the matter!
Are You Too Old to Fix Your Smile?
The good news is that cosmetic dentistry isn't age dependent. What's more important is the health and condition of your teeth. While it's no secret that changes occur as you get older, there are still several options available to leave you with a more youthful and vibrant looking smile. Whether you have broken, cracked, worn or chipped teeth, there is a way to make improvements.
Smile Solutions Tailored for You
Here are some of the smile options for enhancing your appearance and boosting your confidence:
Tooth-Colored Fillings
In years past, amalgam fillings were used because they were durable and less expensive. Unfortunately, these fillings have been discovered to release toxins as they decay, and they create a noticeable contrast with their silvery appearance.
A cosmetic dentist can remove the old filling and replace it with a tooth-colored alternative, which consists of composite resin material that is bonded to the existing tooth to create a lasting and attractive restoration.
All-Ceramic Dental Restorations
Depending on your specific needs, durable all-ceramic materials can be custom crafted into aesthetically pleasing crowns, inlays, onlays and bridges. You'll be left with a lifelike smile, without having to worry about any allergy flare-ups.
Porcelain Veneers
If you have chipped, gapped, slightly misaligned, crowded or stained teeth, porcelain veneers can do wonders. The thin ceramic shells fit directly over the front teeth to mask any flaws and create a wonderfully rejuvenated smile.
Teeth Whitening
It's not uncommon for teeth to get darker as time goes by. This may be the result of enamel wear that allows more of the yellowish dentin to show, stains that have accumulated over the years from drinking dark-colored beverages, smoking or taking certain medications. With professional teeth whitening, your smile can be brightened by as much as eight shades, leaving you looking younger and more confident.
Getting Started
The process of reinvigorating your appearance and turning back the hands of time starts with paying a visit to a local cosmetic dentist. You'll undergo an assessment to make sure your oral health is up to par and to determine what will be the best smile solution. While there, you'll also have an opportunity to ask any questions you may have. Before you know it, you'll be beaming from ear-to-ear with an improved new image!
About the Author
Dr. John Carroll earned his dental degree from Tufts University School of Dental Medicine. Over the years, he has further refined his cosmetic dental skills by maintaining membership with the Spear study club. Voted one of Connecticut Magazine's Top Dentists in 2020, Dr. Carroll maintains the highest standard of care. He helps patients of all ages enjoy their dream smiles at his private practice, and he can be reached for more information or to schedule a visit through his website.