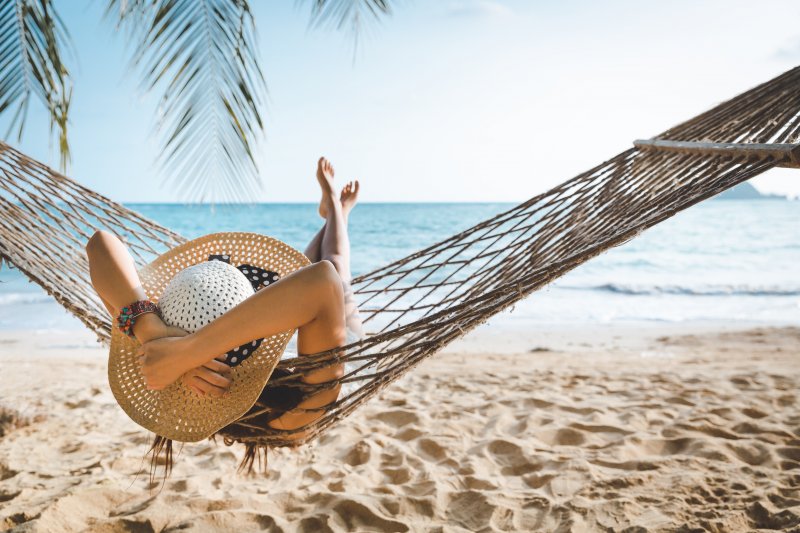 Last year, your vacation plans likely came to a screeching halt as cases of the novel COVID-19 virus soared. Fortunately, with sanitation and safety protocols in place, this summer looks quite different! Since R&R is long overdue, the last thing you want is for a tooth-related injury to get in your way. Fortunately, there are a few best practices you can implement to prevent dental emergencies, like a cracked tooth, from derailing your plans. Keep reading to learn what they are!
#1. Visit Your Dentist Before You Go
Whether you're traveling abroad or staying local, lots of preparation goes into ensuring you have the incredible vacation you deserve. Just don't forget to add visiting your dentist to your list of to-dos! During your checkup, your dental team can spot potential problems, like a cracked filling, in the early stages and swiftly intervene with the appropriate restorative care. The refreshing cleaning will remove built-up plaque, clean the hard-to-reach areas of your mouth, and remove surface stains, ensuring you have a happy, healthy smile for your time off!
#2. Practice Good Oral Hygiene
Away from your regular routine, you may forget to brush and floss as consistently as you usually would. However, this can lead to post-vacation cavities. Therefore, it's of the utmost importance that you pack (and use!) all of your oral hygiene essentials, including a soft-bristled toothbrush, toothpaste, floss, and mouthwash.
#3. Fill Up on Mouth-Healthy Snacks
While on vacation, you may be tempted to fill your plate with all of the delicious, local foods. While indulging is definitely a necessity on vacation, don't forget to add in some mouth-healthy snacks and meals. Foods like oatmeal, cooked veggies, and fresh fruits give your body the nutrients it needs for strong teeth and healthy gums.
#4. Wear a Mouthguard During Sports
If your vacation involves something a bit more adventurous, like catching a few waves or playing beach volleyball with friends, make sure to protect your smile! A custom-made mouthguard from your dentist may seem silly, but it can prevent you from sustaining a serious dental injury, like a knocked-out tooth. Since it's better to be safe than sorry, even on vacation, wear a mouthguard.
Whether your ideal vacation is relaxed, adventurous, or somewhere in between, the last thing you want is to spend your vacation in a dental office. Therefore, keep the above tips in mind throughout the season!
About the Practice
At our Glastonbury dental office, our two exceptional dentists, Dr. Brad Heim and Dr. John Carroll, are proud to offer a comprehensive array of treatments. As a result, you can turn to one skilled dental team at one convenient location for all of your smile-related needs. Plus, our early morning and late evening appointments throughout the week ensure you can squeeze in a visit before your vacation with ease! If you'd like to learn more about how you can prevent dental emergencies or you're ready to schedule an appointment, don't hesitate to visit our website or give us a call at 860-633-2031.