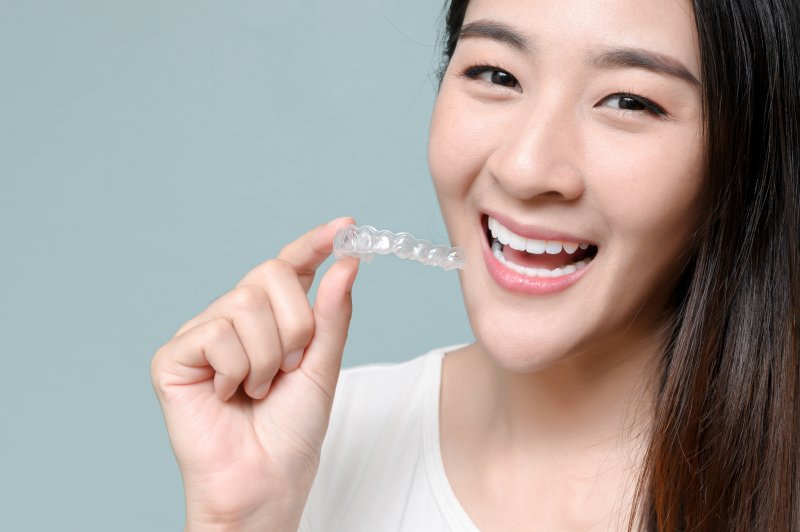 Many people already have a good idea what to expect over the course of traditional orthodontic treatment – namely avoiding certain foods and being careful to protect their metal braces – but what if you're getting Invisalign in Glastonbury instead? What changes will you have to make during your everyday life? Will you have to worry about bad breath or a speech impediment? Prepare yourself for life with Invisalign by learning more about what you can expect.
Does Invisalign Prevent Me from Eating What I Want?
Not at all! Traditional braces usually prevent you from eating particularly hard or sticky foods due to the risk of damaging your appliance. But Invisalign aligners can be taken out of your mouth, so there's no reason they should stop you from enjoying your favorite foods. That said, to keep the aligners safe, you need to remember to take them out and store them appropriately whenever you put anything besides water in your mouth.
Will Invisalign Affect the Way I Talk?
Your tongue is used to having a certain amount of space to move when you need to pronounce certain words. Thus, when you first start using Invisalign, you might notice a slight lisp. This will go away with time as your mouth becomes used to the aligner, and eventually you'll be able to speak normally again.
What's the Best Way to Keep My Aligners Clean?
Don't let food, plaque, and bacteria become trapped under your aligners; brush and floss your teeth after each meal (or even light snacks) to ensure your mouth stays clean. Also, whenever you take your aligner out of your mouth, you can clean them by soaking them in clear mouthwash, a water and hydrogen peroxide solution, or denture cleaner. You could also use an Invisalign cleaning kit.
Will Invisalign Give Me Bad Breath?
The aligners themselves won't have any noticeable effect on your breath at all, but they might start to smell bad if you're not practicing proper hygiene. If you notice an unpleasant odor, it's a sign that you need to improve your cleaning routine.
Can I Still Play Certain Instruments with Invisalign?
If you enjoy playing the flute, the trombone, or a similar instrument, Invisalign doesn't have to stop you. Simply remove the aligners if you find they're getting in the way. (Of course, you need to remember that the aligners have to stay in your mouth for 20 hours a day at minimum.)
Can I Still Kiss Someone While Wearing Invisalign?
It's much easier and more comfortable to kiss with Invisalign compared to braces. Because the aligners are closely fitted to the tooth and are hard to see, your partner may not even realize they're there.
Do you have any other concerns about Invisalign? You should meet with your cosmetic dentist in Glastonbury as soon as you can. Once your questions have been answered, you can decide for yourself whether or not Invisalign is your best option for correcting your smile.
About the Author
Dr. Brad Heim is a proud graduate of the University of Connecticut School of Dental Medicine, and he started practicing general dentistry in Glastonbury in 1986. Along with Dr. John Carroll, he offers a wide range of cosmetic services including clear aligners for correcting crooked teeth. To schedule an Invisalign consultation, visit his website or call (860) 633-2031.