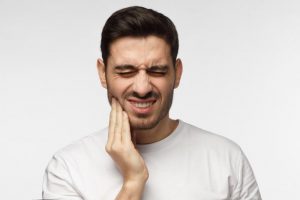 There is nothing worse than having a piece of your dental crown break off during lunch! You were just enjoying your first bite of your sandwich when you felt the telltale crack. Now you have a jagged restoration hurting your tongue, and you're pretty sure you root might even be exposed since your tooth is starting to feel sensitive. You need to fix this problem and fix it fast! Your emergency dentist in Glastonbury has the solutions you need to get relief and restore your smile.
How to Handle Your Broken Crown
When a dental crown breaks or falls out it can cause sensitivity or pain, it also may be loose and you want to avoid swallowing it. Over the counter medication can be helpful for relieving mild discomfort; however, if you have a root that's been exposed, you may need immediate treatment.
Contact your dentist right away so they can assess your situation and determine when you can be seen to repair your tooth.
Why Did My Crown Break?
Unfortunately, dental restorations don't last forever, and crowns are no exception. Most crowns are designed to last around 10 to 15 years, so it may be that your restoration has just broken down over time.
Some of the foods we eat can also affect the longevity of your crown. Biting into hard foods can cause breakdown, while sticky foods may pull a crown right off of your tooth.
Patients who clench and grind their teeth (bruxism) may also find that their dental restorations don't last as long due to the pressure and force of bruxism.
Same-Day Dentistry in Glastonbury
Dr. Heim and Dr. Carroll help patients not only with dental emergencies, but also by providing same-day dentistry in Glastonbury. Innovative CEREC technology allows our dentists to restore a tooth with a dental crown, inlay, onlay, or veneer in just one short visit to our office.
Using 3-D technology, CEREC scans an image of your tooth directly to a milling machine located in our office. Our dentists design your tooth to their exact specifications and then it's milled using high-quality ceramic porcelain while you wait.
CEREC one-visit crowns are an excellent solution for emergency patients who need fast relief and a replacement for broken crown.
If you have a broken crown or other dental restoration, don't wait to contact Dr. Heim and Dr. Carroll today!
About the Author
Dr. Brad Heim has been taking care of patients in Glastonbury for over 30 years. He combines his talents with Dr. John Carroll to provide comprehensive dentistry designed to meet our patients' needs under one roof. Utilizing technology like CEREC also provides a more comfortable and efficient experience for patients.
If you would like to contact our dentists, they can be reached online or by calling (860) 633-2031.