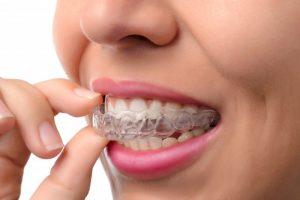 Congratulations! You have decided to straighten your teeth with one of the most effective and innovative systems available for adults – Invisalign. There are so many benefits you'll enjoy when aligning your teeth with Invisalign in Glastonbury, and one of those is the effect it has on your diet.
Are there Restrictions to My Diet With Invisalign?
The brackets and wires of traditional braces require a lot of changes to your diet including avoiding hard or sticky foods that might pull brackets off. The good news with Invisalign treatment is that because your aligners are removable, you don't have any restrictions to the foods you eat.
The Hidden Benefits of Aligners
Many patients report that wearing Invisalign aligners helps to curb their appetite, and some have even reported losing weight during their Invisalign treatment. This is because aligners have to be worn at least 22 hours per day in order to achieve the desired results.
When you take your aligners out to eat you'll want to rinse and clean them before replacing them again. This makes the process of eating snacks throughout the day quite lengthy, and many patients say they begin to avoid eating outside of mealtime.
One of the greatest benefits of Invisalign aligners is that they are clear and hardly noticeable, so you may also want to avoid drinking beverages such as coffee, tea, or soda, which might stain or discolor your aligners and make them more noticeable. This aspect of treatment has patients reporting that they drink more water throughout the day, which helps them avoid beverages that may not be good for their oral health or waistline.
Life After Invisalign
When you have completed your Invisalign treatment and are enjoying your beautiful new smile, you'll be required to wear retainers at night while you sleep in order to keep your teeth in proper alignment. Depending on what your dentist in Glastonbury chooses for you, your retainers may be very similar to your aligners.
While it is only necessary to wear these retainers at night, whose to say that you can't pop them in every now and then if you find yourself back to your old daily snacking habit?
About the Author
Drs. Brad Heim and John Carroll have been serving the community of Glastonbury, CT for over 30 years. With a focus on patient comfort and comprehensive dentistry, patients will find everything they need to achieve and maintain optimum oral health here at our practice.
If you would like to reach Dr. Heim and Dr. Carroll, you can call the office at 860-633-2031 or reach them through their website online.