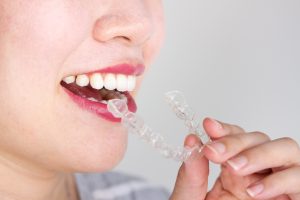 You've decided to align your teeth with Invisalign. Congratulations! This is one of the most innovative ways you can achieve a straighter and more beautiful smile. If you follow all of your dentist in Glastonbury's recommendations for successful Invisalign treatment, you will achieve fast and effective results in most cases. Here's what you should know about your Invisalign treatment.
How Often Should I Wear My Aligners?
Invisalign is most successful when you wear your trays at least 22 hours per day. One of the greatest benefits of Invisalign is that trays can be easily removed for eating and brushing. This means there are no restrictions to your diet or changes to your home care routine during treatment. However, it is important to wear your trays consistently each day in order to achieve the best outcome in a timely manner.
How Should I Clean My Aligners?
You will be wearing each set of aligners for two weeks at a time, so it's important to keep them clean by rinsing them each time you take them out. You can also soak them in a mild denture cleaner or Invisalign cleaning crystals periodically to keep them fresh and clean.
Plaque and bacteria can build up on your aligners, which can cause a foul odor and also contribute to tooth decay if aligners are not cleaned and rinsed.
How Often Will I Visit My Dentist for Checkups?
Your clear plastic aligners will be changed every two weeks, but the good news is that you can do this at home, which means that Invisalign requires fewer visits to your dentist. You will visit your dentist in Glastonbury every few weeks for checkups to ensure that your treatment is progressing as planned.
Will I Wear a Retainer After Invisalign Treatment?
You will wear a retainer that is similar to your clear aligners when treatment is completed. For most patients, wearing their retainers at night while they sleep is enough to keep their teeth properly aligned. Your dentist will give you individualized instructions for wearing your retainer when your treatment is completed.
Do You Have More Questions?
If you have any other questions or concerns about Invisalign in Glastonbury, your dentist is happy to help. Give us a call today to learn more.
About the Author
For a combined total of nearly fifty years, Dr. Brad Heim and Dr. John Carroll have been taking care of patients in Glastonbury, CT. With a focus on providing personalized attention combined with comprehensive dental care, this is the team that patients trust with their smiles.
If you would like to contact our dentists, they can be reached by calling 860-633-2031 or through their website.