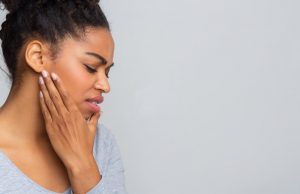 Do you have a toothache during COVID-19 while you're self-isolating? While the first thing you should do is contact your local emergency dentist to schedule an appointment, you can also take some steps to ease your pain and make yourself feel more comfortable until you're able to visit their office. Read on for five at-home toothache remedies that you can find in your kitchen pantry so you don't have to go to the store.

Dab of Clove Oil
A simple toothache remedy that contains natural numbing properties is clove oil. If you happen to have some hanging around your pantry, you can place a small amount on a cotton ball and gently dab it on the affected tooth. Be sure not to pour the oil directly in your mouth, because this could irritate your sensitive gum tissue. You can also chew on a whole clove to slowly release its oils and numb the area.
Cold Compress From the Freezer (Or a Bag of Peas!)
There's nothing as soothing as a cold compress on the affected area of your cheek if you're in severe pain. This can slow the rate at which your nerves are travelling to your brain to signal your pain. Be sure to hold the cold compress on your face for 10 minutes on, 10 minutes off for up to an hour. This can also help bring down any swelling caused by infection or trauma.
Mix Up a Ginger-Cayenne Paste
If you have a massive spice cabinet, you'll likely be able to find ginger and cayenne, which come together to create the perfect toothache remedy! Mix equal parts of these spices together with just enough water to turn the concoction into a paste. Roll a cotton ball with the paste so it's saturated and leave it on the area until the pain dissipates. You'll likely notice a burning sensation, if it gets uncomfortable, take the cotton ball off.
Swish With Salt Water
A simple salt water swish can also help sanitize the affected area and ease some of your discomfort. Just dissolve a teaspoon of salt in a cup of water and move it around your mouth for about 30 seconds. Afterward, simply spit it out! You can repeat this as often as you'd like.
Soothing Peppermint Teabag
Peppermint has natural numbing properties that can help take away toothache discomfort. Simply soak a teabag in hot water to release the oils and place it in the freezer for a few minutes until it gets cold. Then, place the teabag on your affected tooth until your pain subsides. You can also just drink some peppermint tea!
It's important to remember that all of the remedies listed above are only temporary solutions to your toothache, and you should call your emergency dentist as soon as you experience oral discomfort. With timely intervention, you'll be able to preserve your smile and quickly get rid of your pain!
About the Author
Dr. Brad Heim has decades of experience under his belt and has even completed a general practice residency at The University of Rochester. He focuses on continuing his education by taking advanced courses and sharpening his skills. He has received the Fellowship award from The Academy of Laser Dentistry and is an active member of several professional organizations. For questions or to schedule an emergency appointment, visit his website or call 860-633-2031.