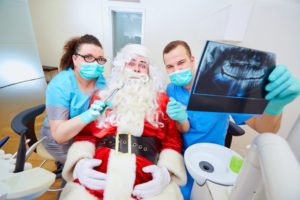 Between the office candy jar, making sugar cookies at home, and planning delicious family dinners, this time of year can be quite hard on your teeth. If you're not careful, you may find yourself in the new year with tooth discoloration and cavities! Thankfully, keeping your oral health on track doesn't mean that you have to give up all your favorite seasonal traditions or treats. Read on as your Glastonbury dentist shares five tips for enjoying the holidays without ruining your teeth.
1.) Don't Forget to Brush
Between holiday parties, gift shopping, and spending time with loved ones, it's no secret that this time of year is a busy one. Even so, it's essential that you carve out at least two minutes every morning and evening to brush your teeth, as well as extra time to floss and rinse with mouthwash once a day. These simple habits can be easy to forget about, but they're your number one defense against cavities, discoloration, and cracked teeth during the holidays!
2.) Choose Your Sugary Treats Wisely
Avoiding all sugary foods over the holidays is likely an impossible task, so instead, make sure to choose your sweets wisely. Hard and sticky candies like peppermint bark, peanut brittle, taffy, and caramel apples are all bad news for your teeth. They wear down your enamel and leave sticky sugars in hard-to-clean areas of your mouth. Swap these treats out for safer ones, like soft sugar cookies, pumpkin pie, peanut butter cups, peppermint patties, and fudge with no nuts.
3.) Eat Well & Stay Hydrated
You probably already know that if you want to avoid cavities this holiday season, you'll need to eat more healthy foods than sugary sweets. Fibrous raw vegetables and fruits will help scrub away lingering sugars in your mouth, and calcium-rich foods will promote healthier enamel. Also be sure to drink plenty of water throughout the day, which will wash away many cavity-causing particles in your mouth.
4.) Rest & Relax
Did you know that stress can damage your teeth? Feeling stressed out can cause you to stress-eat, nervously chew on hard objects, or grind your teeth in your sleep. While it's much easier said than done in many situations, make sure to take some time to rest and relax during this holiday season. Be kind to yourself, set reasonable expectations, avoid arguments with family, and spend time with loved ones. Your smile and your mental health will thank you!
5.) Get Your Dental Checkup
Have you gotten your second dental checkup this year? If not, now is the perfect time to visit your dentist before the holiday rush. Even if your teeth look and feel fine, your dentist will be able to spot any early warning signs of problems and treat them before they have a chance to get worse and interrupt your holidays!
Make sure your holly jolly smile leaves this time of year happy and healthy by keeping these five simple tips in mind.
About the Practice
If you're looking for award-winning dentistry from a team of local dentists, come visit Dr. Brad Heim and Dr. John Carroll. Named as one of Connecticut's top dentists in 2020, Drs. Heim and Carroll go above and beyond to provide comfortable, friendly, and high-quality dental care that's personalized to your unique smile. With their wide array of services, they're ready to help you keep your smile healthy throughout the holidays and throughout the new year. To learn more, they can be contacted online or at (860) 633-2031.