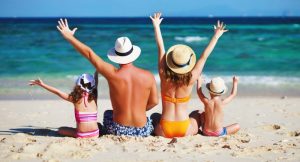 There's nothing that sounds better than relaxing on the beach – toes in the sand, ocean water splashing, and the sun beating down on you. It's so close to your long-awaited summer vacation and you're over the moon. In order to get the most out of your trip, it's important to maintain your oral hygiene and reduce your risk of dental emergencies. Read on for a few tips from your dentist on how you can keep your smile healthy and happy while enjoying your vacation.<
Start Your Trip Off Right With A Checkup And Cleaning
Although visiting your family dentist is probably the last thing on your mind as your long-awaited summer vacation approaches, it's important to squeeze it in. Getting a clean bill of health before you leave can allow you to relax on the beach instead of worrying about why your tooth is aching. Your dental professional can spot and take care of any small problems so they don't progress into something that causes you discomfort while you're trying to have fun on your trip.
Having to find an emergency dentist in a new place can be stressful, costly, and time-consuming. Instead, be prepared by getting an examination and professional cleaning from your local dentist professional before you head out of town.
Pack Up The Essentials
With all the excitement and hustle-and-bustle before you leave town, it's easy to forget a couple of important essentials. When you leave these tools behind, they can impact your hygiene routine, so it's important to pack everything that you'll need and typically use. Here are some products you won't want to leave behind:
Toothbrush & toothpaste
Dental floss
Antibacterial mouthwash
Sunscreen for your lips
You probably pack your toothbrush away in a plastic baggie or travel case to keep it clean. Remember to remove it from its container when you reach your destination. When your toothbrush is kept in an enclosed space and is wet, it can breed bacteria that you definitely won't want to transfer to your mouth.
Stick To Your Oral Hygiene Routine
On vacation, everything is new and exciting and can distract from your daily routine. Since you remembered to bring all of your regular essentials with you, don't forget to use them! Taking care of your teeth and gums on vacation is extremely important and can help you avoid serious discomfort and oral health problems.
Watch Out For Sweets And Carbohydrates
If you're going on a road trip, it's easy to visit your grocery store and grab handfuls of prepackaged snacks that are easy to eat. While they're delicious and convenient, they're typically not great for your oral or overall health. Instead, take the time to cut up and prepare some fresh vegetables to munch on as a snack instead of potato chips or sweets. When carbs and sugar accumulate in your mouth, it can lead to cavities and dental decay.
Throwing your oral hygiene out the window while you're on your summer vacation may seem convenient, but it'll have detrimental impacts on your health and could ruin your trip. Instead, follow these tips and keep up with your mouth so you can enjoy the beach instead of a dentist's chair!
About the Author
Dr. Brad Heim has been improving smiles in his community of Glastonbury since 1986. He achieved the highest honor in The Academy of General Dentistry when he earned his Masters award in 2011. As a member of several professional organizations, he strives to provide his patients with high-quality care that exceeds their expectations. For questions or to schedule a checkup and cleaning, visit his website or contact 860-633-2031.